HRM Week 2022 – June 20-24, 2022
Join the American Society for Health Care Risk Management in celebrating HRM Week, June 20-24, 2022. This annual event, held in the third week of June, is the time to show your appreciation for health care risk management professionals in your organization and your community.
HRM Week Activities
Engage in HRM Week with these engaging and accessible activities:
Print for your team and highlight terms that represent risk management.
Test your risk management knowledge with this 10-question quiz.
Voices of ASHRM
In celebration of Health Care Risk Management Week 2022, ASHRM is spotlighting individual risk professionals and the incredible work they do every day. Read each of their stories to see how important their work is as a risk management professional.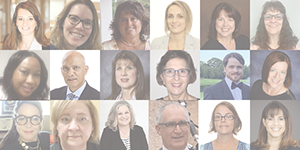 Health Care Risk Manager of the Year Award
The ASHRM Risk Manager of the Year Award is an award that recognizes and outstanding individual for their advancement and service to health care risk management.
2021 Recipient: Jean B. Hood
The 2021 Health Care Risk Manager of the Year was awarded to Jean B. Hood, RN, MSN, CPHRM, CPPS, FASHRM. Jean is the Executive Director of Clinical Risk Management Services at AdventHealth, a large not-for-profit, faith based unified healthcare system that provides whole-person care in diverse markets throughout nine states.
Jean has been a registered nurse for over 35 years. Her past nursing experience was in critical care before becoming a leader in Clinical Risk Management. Jean is an active member of both the American Society for Healthcare Risk Management (ASHRM) and the Florida Society for Healthcare Risk Management and Patient Safety (FSHRMPS).

Jean's colleagues describe her as:

A true leader who inspires others both through the power of her example but also through soliciting others to participate in the promotion of the profession. She served as the Board Liaison for the FSHRMPS Advocacy Committee and in that role she inspired a group of members to plan and participate in our first Advocacy Day at the Florida Capitol.
Her personality is contagious and her networking ability is admirable, she has a great knack for remembering individuals and has created a huge network to tap into when asked to help on a project.
Jean is very knowledgeable. She has immense institutional memory and decades of experience of risk management cases. She really cares about people and is very helpful and supportive.
She is a nurse who understands the risk management world and that not everything goes as desired. She is unafraid to tackle sensitive issues.
Jean is very passionate about her work. She is extremely helpful when you work with her. She is very enthusiastic and has a great work ethic.
HRM Week Podcast - Available Monday, June 20
ASHRM will be releasing a special HRM Week podcast featuring a conversation with Jean Hood, the 2021 Health Care Risk Management of the Year. The ASHRM Podcast provides an inside look at the issues and solutions faced by healthcare risk management professionals. Subscribe to the ASHRM Podcast using Apple Podcasts, Spotify or the podcaster of your choice, or use the link below to listen on your browser.
HRM Week Communications Resources
Spread the word about HRM Week and educate others about health care risk management using these free HRM week tools.
HRM Week Logo
Download the HRM Week logo and develop your own HRM Week promotional materials or include it in your email signature:

Web Version | Print Version | Email Signature Version
Social Media Toolkit
Join the conversation on Facebook, Twitter and LinkedIn. The HRM Week Social Media toolkit contains icons, images and suggested posts for you to share on your accounts or to provide to your organization's social media team. Don't forget to include the hashtag #HRMWeek in your Twitter posts.
Promotional Templates
Use these downloadable promotional templates to enhance your HRM Week communications. These materials can help guide you in raising awareness of the importance of risk management and patient safety professionals.
HRM Week Gifts
HRM Week gifts are an easy way to show your appreciation for your team and raise awareness of the risk management profession. These new gifts are now available to order.