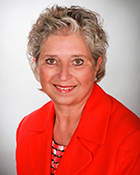 Barbara McCarthy
ASHRM President
Enterprise Risk Officer
Beverly, MA
Email: Barbara.McCarthy@Lahey.org
Barb is Enterprise Risk Officer at Beverly Hospital, a member of Beth Israel Lahey Health, in Beverly Massachusetts. She is a resource for risk prevention and control for acute care, inpatient behavioral health, and insured physician practices. She supports the medical malpractice program & is a resource for the compliance, privacy, & safety programs. Barb received a diploma in Nursing from New England Deaconess Hospital School of Nursing in Boston, a BSN from Northeastern University, and an MPH from Boston University. Past roles include critical care and inpatient nursing management; performance improvement, infection control, safety, privacy, & employee health leadership as well as Joint Commission coordination. Barb has been an active member of both state & national risk management associations for 17 years & was MA state chapter president in 2009. She was a member of the ASHRM board and deputy-chair of the ERM Task Force, is an ERM faculty member & a member of the Leadership Task Force. Most recently, Barb was elected as the ASHRM President-elect for 2021 & ASHRM Risk Manager of the Year for 2020.

Rebecca Cady
ASHRM President-Elect
VP, Chief Risk Officer
Washington, DC
Email: RCady@childrensnational.org
Rebecca Cady, Esq., BSN, CPHRM, DFASHRM, FACHE is Vice President, Chief Risk Officer at Children's National Medical Center in Washington, D.C. She is a Bachelor of Science in Nursing graduate of Georgetown University, and a graduate of the University of San Diego School of Law. Prior to coming to CNMC in 2008, Rebecca was a partner at Grace, Hollis, Lowe, Hanson and Schaeffer, a California law firm, where she practiced in the areas of malpractice defense, healthcare, and professional licensure law. She has published extensively in the area of nursing and the law, and is a frequent lecturer to healthcare providers. She was Editor in Chief of the Journal of Nursing Administration's Healthcare Law, Ethics, and Regulation from 2002-2013. She was named the 2018 Risk Manager of the Year by RIMS, the Risk and Insurance Management Society, a global professional organization of risk professionals from all industries. She was also named the 2018 Risk Manager of the Year by ASHRM, the American Society for Healthcare Risk Management. She was recognized as a 2018 Woman to Watch by Business Insurance Magazine in December, 2018.
Rebecca is a Distinguished Fellow of ASHRM as well as a Certified Professional Health Care Risk Manager (CPHRM). She is also a board certified healthcare executive, holding the FACHE designation from the American College of Healthcare Executives. Rebecca holds a Certificate in Strategic Decision and Risk Management from Stanford University. She has been an active volunteer with ASHRM, helping to write a variety of publications including Pearls on Medication Safety and Applying Enterprise Risk Management, and the Risk Financing Playbook and Healthcare Claims and Litigation Playbook. She has served on multiple ASHRM committees and task forces including Chair, ASHRM Federal Legislative Advocacy Task Force; Member, ASHRM Nominating Committee; Member, ASHRM Journal Review Board; Member, ASHRM ERM Committee; and Member, ASHRM Bylaws Committee.

Margaret Garrett
ASHRM Past-President
Vice President of Risk Management
Baltimore, MD
Email: mgarret@jhmi.edu
Ms. Meg Garrett , a Villanova University, College of Nursing graduate, was a Navy Nurse doing the Vietnam War. Recently retired, she had a thirty plus year career in the Risk Management/ Legal Department at the Johns Hopkins Health System. In her role as Vice President of Risk Management and Chief Legal Counsel, she was responsible for designing, implementing and overseeing all aspects of the Risk Management Program. She was responsible for integrating the Risk Management and Patient Safety at six major US hospitals and numerous international facilities. She continues to advise Senior Leaders in matters regarding Patient Safety, Ethics, Risk Management, Legal and Regulatory matters. She has a proven track record for preparing and coordinating Joint Commission and other regulatory surveys. Meg has been active with ASHRM since early 2000. She has been a member of numerous committees, the Board and currently serves as the 2021 President of American Society of Healthcare Risk Management(ASHRM) She has also been active in the Maryland -DC Society of Healthcare Risk Management and has served as President and Board member for many years. Meg currently is President of her own Risk Management Consulting Corporation. She is also adjunct faculty at Villanova University and Johns Hopkins University College of Nursing. She is a guest lecturer at University of Maryland Carey School of Law and has mentored over 200 law students in her career. She is a founding member of the American Association of Nurse Attorneys. Meg is active on many Boards including Health Care for the Homeless and Elizabeth House which both sponsor programs for the underserved. She is a national and internationally recognized speaker on Patient Safety, Risk Management, Medical Staff and Nursing, and Health Care Law.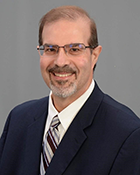 Chris Allman
ASHRM Board Member
Vice President, Compliance, Integrity & Risk Management
Trinity Health
Livonia, MI
Email: Christopher.Allman@trinity-health.org
Christopher Allman is the Vice President of Compliance, Integrity & Risk Management at Trinity Health Senior Communities, located in Livonia, Michigan.
During his twenty-three years as an attorney, Mr. Allman has focused his career on general health law, including all areas of regulatory compliance on the federal and state levels, healthcare risk management, and litigation.  More specifically, Mr. Allman's has provided expertise in areas of strict government regulation, such as Stark, Anti-Kickback Statute, False Claims Act and HIPAA, as those matters become increasingly complex in today's environment.  Mr. Allman's clients have included major regional medical centers, small community hospitals and individual physician offices.  Mr. Allman is also a frequent lecturer to physician groups, residents, nurses and risk managers on a variety of healthcare topics.  He has published articles on a variety of healthcare topics, including HIPAA, licensing matters, e-Discovery, Healthcare Reform and was a contributor to the ASHRM Healthcare Claims and Litigation Playbook. 
Mr. Allman is a Certified Professional in Healthcare Risk Management (CPHRM), a Distinguished Fellow of the American Society for Healthcare Risk Management (DFASHRM), a Past President of the Michigan Society of Healthcare Risk Management and has served as the Chair of the Advocacy Task Force for the American Society for Healthcare Risk Management (ASHRM) from 2012-2014, on the ASHRM Finance Committee in 2018 and 2019, and the ASHRM ERM Task Force.  In addition to his current activity with the ASHRM, he is also an active member of the State Bar of Michigan – Health Law Section and the American Health Lawyers Association.  Mr. Allman graduated from Wayne State University Law School in 1996 and Hope College in 1992.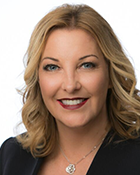 Caroline Bell
ASHRM Board Member
CEO of IERM
Denver, CO
Email: Caroline.Bell527@outlook.com
Caroline Bell is a veteran of creating and implementing effective risk management approaches in healthcare organizations. She has over 25 years of experience in the healthcare industry.  Caroline's collaborative and results-oriented approach facilitates the adoption of impactful risk management strategies in healthcare entities.
Caroline's extensive experience includes leadership and execution in risk management and patient safety programs for healthcare risk consulting firms, medical malpractice insurance companies, large and mid-size health systems, and academic university medical centers. Her clinical experience is vast and enables her to provide guidance across multiple specialties and disciplines.
Caroline provides consultative services to improve and enhance risk management and patient safety programs. She assists healthcare organizations with clinical risk management program design and development; enterprise risk management evaluation, development and implementation; strategic risk management initiatives including implementation and evaluation. She also specializes in coaching/mentoring risk management professionals at all levels of healthcare organizations.
Caroline has a Bachelor of Science in Nursing and a Juris Doctor degree.  She is a Certified Professional in Healthcare Risk Management (CPHRM). Caroline is actively engaged in local and national risk management societies and has served as a member of a variety of professional committees. She is a Distinguished Fellow of the American Society for Health Care Risk Management (DFASHRM) and was the 2019 President of Colorado Healthcare-Associated Risk Managers (CHARM), faculty member for ASHRM's ERM Certificate Program and she's an ASHRM board member.  She has authored numerous articles and speaks on a local, national and international level on healthcare risk management topics.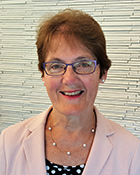 Anne Huben-Kearney
ASHRM Board Member
Assistant Vice President, Risk Management Group
AWAC Services, member company of Allied World
Foxborough, MA
Email: Anne.Huben-Kearney@awacservices.com
Anne Huben-Kearney, RN, BSN, MPA, CPHRM, CPHQ, CPPS, DFASHRM, has extensive clinical, managerial, and administrative experience in a variety of healthcare settings, such as tertiary care institutions, community hospitals, and physician office practices and in the medical professional liability industry, using her expertise in patient safety, risk management and quality improvement.
Anne started her career as a registered staff nurse then progressed to assistant nurse manager and nurse manager in various patient care units at Yale New Haven Medical Center. Anne was then a surgical nursing supervisor/administrative supervisor and promoted to associate surgical director at the Hospital of St. Raphael before transferring the New Britain General Hospital (now the Hospital of Central Connecticut) where she started as the director of nursing quality assurance and special projects, advanced to director of nursing quality assurance and obstetrics, and then to director of performance improvement/hospital quality improvement.
Anne started her medical professional liability insurance career at ProMutual Group (now Coverys) as a risk consultant, clinical manager, and vice president, risk management. Anne had the opportunity to return to Signature Health Care Brockton Hospital, an academic acute care facility, as the patient safety officer. Realizing that her passion is risk management consultation, Anne returned to medical professional liability risk management with AWAC Services, a member company of Allied World, as an assistant vice president, risk management group. As an assistant vice president and lead for the behavioral health program, Anne provides risk management consulting services to Allied World's medical professional liability policyholders and insured psychiatrists, psychologists, psychiatric nurse practitioners and physician assistants. Anne works directly with policyholders to develop individualized action plans to mitigate potential loss based on their unique exposures and risk management needs. Additionally, Anne assists these clients with ongoing medical educational programs as well as policy review and development.  
Anne earned a Bachelor of Science degree in nursing magna cum laude from College Misericordia, (now Misericordia University) and her master's in Public Administration (MPA) with a concentration in health care administration from the University of New Haven. She is a Distinguished Fellow of the American Society for Health Care Risk Management (DFASHRM) for outstanding achievement and has earned Certified Professional designation in Health Care Risk Management (CPHRM), as well as certification in Healthcare Quality (CPHQ) and in  Patient Safety (CPPS).
Anne has held several leadership positions with the Connecticut Society for Health Care Risk Management [CSHRM] including several terms as secretary and as a member of the CSHRM Board as well as with the National Association of Health Care Quality, where she was on the Nominating Committee.  She presents frequently on state, regional, and national levels on health care and behavioral health patient safety and clinical risk management topics and is on the ASHRM Faculty for the Patient Safety Certificate program. Anne was a contributor to the ASHRM Obstetrical Management Playbook and continues to author risk management resources as a member of AWAC Services on healthcare and behavioral health topics. Anne has been elected to the ASHRM Board for 2020-2023.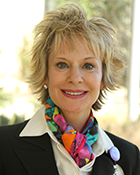 Karen S. Garvey
ASHRM Board Member
Vice President Safety & Clinical Risk Management
Dallas, TX
Email: KAREN.GARVEY@phhs.org
Karen Garvey serves as the Vice President for Safety & Clinical Risk Management for Parkland Health & Hospital System. Her current responsibilities include oversight of the departments of Regulatory & Accreditation, Patient Safety and Clinical Risk Management and the Executive Sponsor for the SPARKs (Supporting Parkland Staff) Peer Support Program.
She joined Parkland in her current role in 2014, the first of a challenging five-year Corporate Integrity Agreement (CIA) focused on Quality & Safety, one of the first of its kind for healthcare organizations. In her role she was one of the staple leads for the Quality & Safety Operations Division where she was tasked to revision and refocus the Patient Safety & Clinical Risk Management and Infection Prevention Departments of which both were a strong focus of the CIA. Through the QSO leadership, she was able to bring closure to several key gaps which continue to be sustained today. She leads several patient and employee committees and initiatives to improve patient outcomes and reduce violence against employees. In her role prior to Parkland, she served as the Sr. Director for Patient Safety & Clinical Risk Management for the Cleveland Clinic's domestic and foreign facilities where she was successful in building fully transparent medical disclosure programs and developing Patient Safety Education for front line managers, physicians, residents and health care executives.
Karen is also active in the American Society for Healthcare Risk Managers (ASHRM) where she previously served a three-year term (2017-2019) as a member of the ASHRM Board of Managers and will begin serving a second three-year term starting in January 2021. Karen has also served as national teaching faculty for the CPHRM certification class (11 years) and the Healthcare Risk Management Essentials Module (6 years) and has also worked on ASHRM Publications and the current CPHRM Study Guide on online course. Karen is also active teaching faculty for Institute for the Healthcare Improvement (IHI) Certified Professional in Patient Safety (CPPS) exam prep course (7 years) and is a HRET Patient Safety Leadership Fellow (2008). Karen received the DFW Great 100 Award for Nurses in 2017 and the 2019 Healthcare Risk Management Leadership Award from ASHRM in October 2019 at the ASHRM national conference.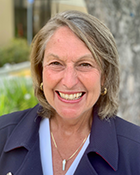 Elaine Ziemba
ASHRM Board Member
Vice President and Chief Risk Officer
Stanford, CA
Email: mba@stanfordhealthcare.org
Elaine is currently Vice President and Chief Risk Officer for the Stanford Medicine Enterprise. In this role she is responsible for the operational and strategic functions of the enterprise risk program for Stanford Medicine's pediatric and adult academic medical centers, a large community-based hospital center and two large affiliated physician networks. The Risk function is responsible for all aspects of risk financing, insurance purchases and management, all claims and litigation activities, risk management consultation and education, management and safety oversight of the Owner Controlled Insurance Program (OCIP) and claims administration within the Workers' Compensation Program. Elaine also holds executive leadership positions in and responsibility for Stanford Medicine's two distinct captive risk financing entities.
Elaine has been associated with Stanford Medicine from 2009-20016 and then again from 2018 to current. In between she held a Systemwide Vice President – Risk position in a large healthcare system in the NY metro area. Prior to Stanford, Elaine held administrative leadership positions within the healthcare and insurance arenas including The University of California Medical Center System, Catholic Healthcare West, SCPIE/The Doctors Company and Sedgwick Claims Management.
Elaine has been in healthcare operations and related organizations for her entire 30 plus year career yet will be the first to say, "I am still learning…". Always happy to share her knowledge and experience, Elaine serves as ASHRM Faculty and is a frequent presenter on a local, State and National level.
Elaine holds a BA Degree in Government and Politics from the University of Maryland, a Master's Degree in Health Care Administration from The George Washington University and a Juris Doctorate from Golden Gate University. Elaine currently serves on the Board of ASHRM and the Board of the Hawaii Captive Insurance Council.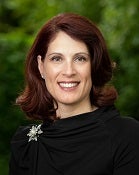 Katherine (Katie) DuFresne
ASHRM Board Member
Executive Director, Clinical Risk Management
Indianapolis, IN
Email: kdufresne@IUHealth.org
Katie DuFresne, RN, MSN, CPHRM is the Executive Director of Clinical Risk Management at Indiana University Health. She has been a registered nurse for over 20 years, having gained her clinical experience in inpatient hematology/oncology nursing. In 2003 Katie began working in healthcare risk management and in 2008 she earned the Certified Professional in Healthcare Risk Management designation.
Katie completed the Charles Warren Fairbanks Fellowship in Clinical Ethics in 2011-2012, and she continues as a volunteer member of the IU Health clinical ethics consultation service and co-chairs the committee. She has previously served as an Adjunct Lecturer in the Department of Community and Health Systems at the Indiana University School of Nursing, teaching Applied Health Care Ethics to second-degree nursing students.
Katie served on the ASHRM Advocacy Task Force for four years and chaired the committee for two of the terms. She will serve on the ASHRM board starting in 2022.
Katie earned a Master's Degree in Nursing and Health Systems Leadership from the University of Indianapolis in May 2015. She received a Bachelor's Degree from Ferris State University in Big Rapids, Michigan, in 1997.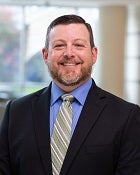 Rodney Melton
ASHRM Board Member
Clinical Risk Manager
Mansfield, TX
Email: RODNEY.MELTON@BSWHEALTH.ORG
Rodney Melton, MHA, BSN, RN, CPHRM is the Clinical Risk Manager at Baylor Scott & White All Saints in Fort Worth, Texas. He is a Bachelor of Science in Nursing graduate of Midwestern State University, and of the McAda Graduate School at Midwestern State University in the Master of Health Administration program. Prior to coming to Baylor Scott & White he was a Director of Risk Management at a multi-hospital health system in the Dallas Fort Worth area. He has held roles such as Patient Safety Program Manager, Patient Safety Officer, and worked as a bedside nurse in the ICU and Emergency Department. He has been a member of ASHRM since 2009 and was a member of the North Texas Society of Healthcare Risk Management from 2009 to 2017 when the chapter closed. He is currently a member of the South Texas Society for Healthcare Risk Management. He has been certified as a Professional in Healthcare Risk Management (CPHRM) since 2013. He has served on Multiple ASHRM committees and task forces. He was the Chair of the ASHRM Annual Conference Committee and a member of the Educational Scholarship and Grant Committee, the Social Media Task force, and the Education Task Force.